BIG ANNOUNCEMENT
I have finally ventured into the world of audiobooks! I started with the Nick Spinelli Romance Mystery Series. Covert Exposure came out on August 8th. Craving Vengeance is set to be released on August 15th, and Crazed Reckoning on August 22nd. The audiobooks are offered on all major online retailers.
Amazon / Barnes & Noble / Apple Books / Kobo …and many more!
REVIEWERS NEEDED: If you are interested in reviewing any of these audiobooks, please email me at valclarizio@yahoo.com as I will have some review codes available soon.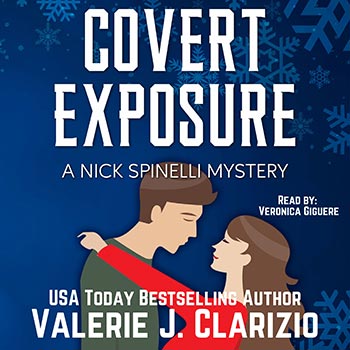 ***Book 1 – Covert Exposure, A Nick Spinelli Mystery
He's a hardened homicide detective.
She's a do-gooder social worker.
When their worlds collide, more than murder is exposed.
Detective Spinelli's life is tossed sideways when he is reassigned from the Homicide division to assist in the Child Services division of the Social Services Department for the holiday season.
Caseworker Shannon O'Hara moonlights as Santa Claus's little helper at the mall, and when Santa and an elf turn up dead, she appears to be next on the killer's list.
Spinelli and Shannon are forced to work together to solve the murders and keep Shannon from becoming the next victim. The trouble is they have wildly different philosophies about dealing with clientele and how best to solve these crimes. Their unwanted attraction to each other triggers additional stress for the two. Will Spinelli be able to complete his job without losing his heart?
***Book 2 – Craving Vengeance, A Nick Spinelli Mystery
Alpha detectives shouldn't have to dress as cupid.
Social workers generally aren't murder suspects.
Working together is the only way for Nick and Shannon to save face.
Nick Spinelli's normal life as a homicide detective has been catapulted into a whirlwind of chaotic holiday adventures since he met the exquisite Shannon O'Hara. Nick had hoped to spend his first Valentine's Day with Shannon in a traditional manner, starting with a nice dinner out and then ending with a long warm adventurous night in her arms. His plans quickly change when cupid is found murdered in a back alley.
Shannon is linked to the victim and when another cupid turns up dead, it is discovered that she's linked to him too. Spinelli is motivated to go undercover as a singing valentine dressed as cupid, complete with wings and a quiver of arrows. The stress ignited by the day's events, causes sparks to fly between Spinelli and Shannon as he struggles to piece it all together and stop the string of slayings.
With Shannon's ties to the victims, is it possible Spinelli is next on the killer's list?
***Book 3 – Crazed Reckoning, A Nick Spinelli Mystery
He's an alpha detective on a mission to claim his love interest.
She's fighting for her freedom.
With Spinelli at her side, will Shannon beat this decades-old family feud?
After experiencing a murderous Christmas and Valentine's Day with his love, Shannon O'Hara, Detective Nick Spinelli assumed Saint Patrick's Day couldn't be any worse. He should have known better.
While out on a geocaching adventure in Door County, Shannon and her friend Anna find more than they bargained for in the cache box.
When Shannon disappears, Spinelli is sent racing to find her. Amidst the chaos of an unruly Irish celebration, and a decades-old Irish family feud, he must rescue her from the hands of a madman.